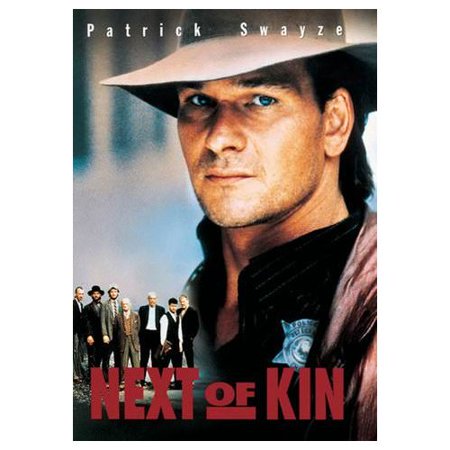 Swayze is back on the podcast and this time... he is kinda sorta doing an accent.
Back to theatrical releases! This week, Nathan and Brendan welcome first-time guest Andy Hamilton onto the show to talk about a wild Patrick Swayze-led film - Next of Kin, a movie which may set a record for the largest amount of insane accents of all-time. From Liam Neeson as a COWBOY (yes, that is correct) to little Ben Stiller not even attempting an Italian accent, this film also features things like fiddle seduction, terrible one-liners and Marinara Smoke Bombs. To find out more, listen in as the guys break down this late-80s action opus.
Next week: The 3rd Annual Manos Hand-Outs! Awards/Demerits for the films that have been covered in Year 3 of the podcast!
Catch Andy in pro wrestling action as Pat Perswayze rolls into Sussex, New Brunswick with the NWE on Saturday, September 14th!
Follow Andy on Twitter: www.twitter.com/IMPatPerswayze 
Follow Andy on Instagram: www.instagram.com/PatPerswayze
Follow Andy on Twitch: www.twitch.tv/PatPerswayze 
Patreon: www.patreon.com/wwttpodcast
Facebook: www.facebook.com/wwttpodcast
Twitter: www.twitter.com/wwttpodcast
Instagram: www.instagram.com/wwttpodcast
Theme Song recorded by Taylor Sheasgreen: www.facebook.com/themotorleague
Logo designed by Mariah Lirette: www.instagram.com/mariahhx
Montrose Monkington III: www.twitter.com/montrosethe3rd
What Were They Thinking is sponsored by GameItAll.com and Podcoin (use the promo code "WWTTPD" and earn 300 BONUS podcoins).